Welcome to the Photos Blog Hop! If you've arrived from
Steffanie's blog
, then you're on the right path. If not, please go to
Amanda's blog
to start from the beginning. There is a lot of inspiration along the way so you don't want to miss it!
I love doing layouts using different numbers of photos. At first, I wasn't very comfortable only using one or two photos on a page but the more I scrapped, the easier it became. See, I have problems with a lot of white space. I'm
almost
scared of it. I often think there's something missing and I spend a lot of time trying to fill it up. I am getting better at embracing the "emptiness" though. :D
However, my true love is doing double-page spreads using multiple photos. Maybe it's because I always take a ton of photos, no matter if it is a special event or an everyday happening. Or maybe because multiple photos fill up a lot of white space, which is more in line with my style. Getting a good design is challenging when using several photos but it's definitely possible. I am a huge fan of Allison Davis - her style suits mine to a T and I love her sketches. I've used them many times and I think that she's starting to rub off on me; I can now put together a two-page spread much quicker because I've used her design principles and they're more natural for me.
For the blog hop, I signed up for 5 or 6 photos. As I leafed through my photos, I found these ones of my little guy. It was his first fall and he'd never really played in a pile of leaves before. I wanted some photos with the kiddos in the beautiful colours. Since we're in the middle of autumn, I figured these would be good photos to play with.
As always, I start with my photos and then choose my paper. I dug through my stash and found these papers that I think fit perfectly with the colours in the photos. I love it when I can use up older products and make them work. I don't use a whole lot of paper with words on it as I sometimes find it distracting but for some reason, this worked for me in this layout.
I decided to try Steffanie's idea of using
wine corks as buttons
on my page - love it!
Not sure that I love this flower on this layout but I do like the flower:
Here's a pic of the other cork button, along with a close-up of the the transparency overlay on the vertical photo on the right.
And my journalling: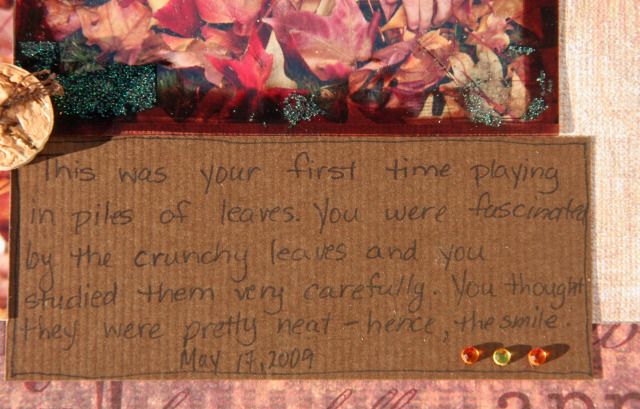 I hope you enjoyed your stop here. If you'd like to be entered for a small RAK, please leave a comment and become a follower. :)
Please hop over to
Laura's blog
for the last stop on our hop.