Stacy's challenge for August at SNC is "Digging Through the Toybox". I decided to do a layout about one of A's favourite toys as a baby - his Cozy Coupe police car. K had it first, loved it, and then A fell in love with it too. Both of them played in that car every time they went outside!
I used one of my favourite lines ever, "Rough and Tough" by Fancy Pants Designs. I just love the patterns, the colours and the elements of the whole line! I used a 7-photo sketch from Scrapbook Generations "Sketches for Scrapbooking", volume 7.
Supplies used: "Rough and Tough" by lili (Fancy Pants Designs" - all papers, journal spot, transparencies
Star stamps - Close To My Heart
I haven't used transparencies a whole lot in my scrapbooking - I just never picked them up when I'd buy paper. But there were a few that came with this kit so I decided to try them out. I love them! The title is so fun - I love the font they used and the addition of orange glittery letters adds enough bling for this mama to be happy without overdoing the sparkle for a boy page. ;) The star border is also a transparency.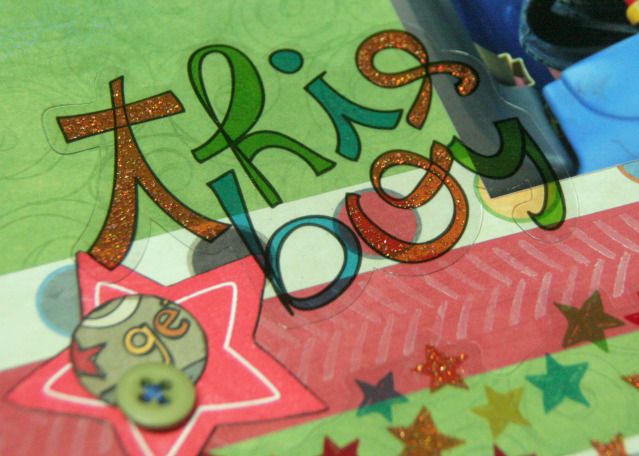 Then I cut out some circles, added a button and cut out some of the stars from the transparency border and made up more embellie clusters. It's not one of my fortes but I think I'm getting better at it.
Another part of the challenge was to use a toy to make the layout. So, I took one of A's John Deere toy tractors and ran it through white VersaMark ink for the red border strip and then through green paint to add to the blue photo block. I should have practiced more with the green paint but oh well, it's authentic, right? :D
I also pulled out one of my stamp sets from CTMH. I love these star stamps - they just are so cute! I don't have a ton of stamps but I do really like the ones that I have.